Linda has been involved in the K9 industry for many years, but after establishing her own walking business her passion for training grew.
For over 4 years she has been studying with the institute of modern dog trainers successfully completing numerous courses and workshops. She also became certified as a pro dog trainer, which offers game based training methods and her journey to become a behaviourist has started by completing her level 3 in motivation, learning and reinforcement and is progressing to level 5 with the international school of canine psychology and behaviour. 
K9 sports is a huge part of Linda's life competing in flyball and agility. She is qualified in canine conditioning and looks forward to progressing this to a more advanced level. She has dabbled in obedience and is now accredited to teach scentwork.
Linda Is dedicated to her continual personal development to advance in all areas of dog training, health & nutrition, sports conditioning and behaviour. 
Hi I am Katherine. Having always had family dogs growing up I wasn't rescued by my own first dog until I was in my 40's, I have 2 lovely sight hounds coaching me now and life has changed considerably from the 9 till 5 office drone of days gone by.
I qualified as a Pro Dog Trainer through Absolute Dogs in November 2018, attended the IMDT 2 day Career as a Dog Trainer course in April 2019 and then achieved my IMDT Learning, Motivation and Reinforcement level 3 in November 2019. I am currently on the Tellington TTouch UK practitioner training programme as well as working towards qualifying as an ACE (Animal Centred Education) team member.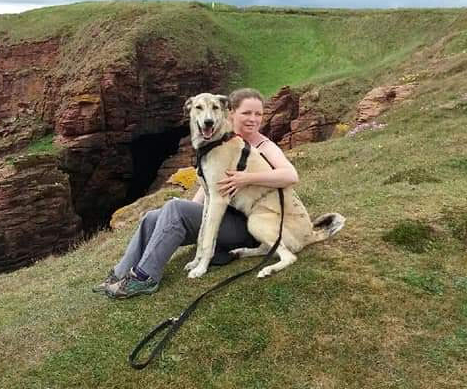 Elaine began training at 14 with her family's rescue patterdale terrier, Max. She taught him a host of tricks, basic agility and settle-because a terrier who cannot settle is not a great houseguest!
This carried on when she got her own first dog, a rescued German Shepherd with zero socialisation, Inca.  Inca suffered from EPI and this brought Elaine to study nutrition, so she could help manage her condition with diet and she currently holds two qualifications in nutrition.
Elaine has gained accreditation with IMDT and PPG and attended various courses to further her knowledge.
In the past 8 years she has taught one to one, held classes, from puppy training (she loves working with the next generation) to tricks and nosework and packed workshops ranging from recall and loose lead to cooperative care.